Olympic fever was in the air at Banfields Aged Care last week, as residents got into the Olympic spirit.
But they weren't just glued to the big screen, watching the athletes complete in Tokyo.
In an inventive twist on the normal activities schedule, Robyn Montague, the Lifestyle Team Leader said her team put together a full Olympic program to help keep residents active.
Just like at the regular games, there was a range of different events and with 45 plus in the Banfield Olympic Squad, it's been a busy week for the Lifestyle team.
"We've had nine different events – discus, shot put, javelin, shooting (with Nerf guns), ten pin bowling, soccer, bocce, darts and putt putt," Robyn explained.
"For warmups, we've done armchair exercises, and held health and harmony meditations for cool downs." She said residents have embraced the Olympic theme, with throats sore from singing the National Anthem.
"Everyone got into the Olympic spirit.
"I think the shooting was their favourite event (using Nerf guns to shoot at plastic ducks), and it did get a bit competitive, but they all cheered each other on.
"Everyone has lived through so many Olympics, so it's something they've all got in common.
"There was a lot of reminiscing and it brought out some stories of past glories," Robyn said.
"It's good for mental health and wellbeing doing something together and it makes them laugh – at each other and themselves."
Even residents not well enough to join in on the activities got to enjoy Olympicthemed brain games and word search from the comfort of their beds.
The week was topped off with a special Olympicthemed lunch. Tables were set with Olympic rings placemats and decorated with koalas, flags and other Aussie merchandise.
It even included a green and gold dessert. "To see their expressions when they came out and saw how good the tables looked, it made our day."
The week ended with a special medal presentation, with gold awarded to Winnie Trehern (shooting), June Durzak (discus), Bill Waters (ten pin bowling, shot put, darts), Lance Reid (putt putt)  and Bob Peterson (javelin).
While the Olympics-theme provided additional colour and fun, Banfields has a regular program of activities designed to keep residents active, healthy and happy.
"We run a really good program and I've got the best team I could have, so we're  very lucky," Robyn said, making special mention of her team of Lisa, Samantha, Sarah, Kaylene and Sonia. "And we couldn't do it without the support of our director of care, Lara Basso."
A recent visit from the assessment team of the Australian Healthcare Associates, confirmed just how special the program is.
"They came in to talk to the residents, but the assessors said they couldn't find most of the residents in their rooms – they were all out doing activities.
"They said they'd never had that before. Here they had to wait for the residents to not be so busy!"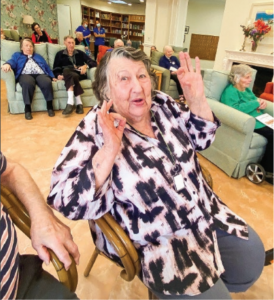 Winnie Trehern won gold in the Banfields Olympic shooting.

Dot and Lance Reid enjoyed the Olympic events – at Tokyo and at home – with Lance scoring several medals

Lisa Pratt, seen here with team leader Robyn Montague, was the mastermind behind the Banfields Olympic program.

Margaret Sullivan celebrating her bronze medal.